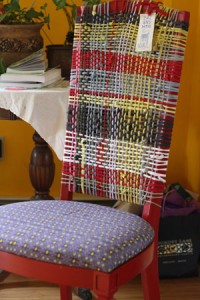 It's pretty rare that a chair will stop me in my tracks as quickly as this one did.  This beautifully and creatively refurbished piece by South Portland artist, Susan Delsandro, aka Zaz and Moe cheerfully greeted me in the living room of my friend Elizabeth Fraser today.
Sigh…my home feels empty without it!
PHOTO COPYWRIGHT INFO
| To view, comment on, or download individual images, head over to my 
Chair by Zaz and Moe
 photoset on Flickr.